Paekakariki Press
Paekakariki Press was established in 2010 to continue the tradition of letterpress printing that is in danger of disappearing in the digital age.
The project started with the acquisition of a Furnival Guillotine from the 1880s and somehow has developed into a full-blown letterpress workshop in Walthamstow, London, with some 300 cases of type, a Heidelberg KS cylinder, a Ludlow typograph, a Thompson British Automatic platen, a Victoria Art platen and most recently, a Monotype Composition Caster and a Super Caster.
Letterpress
Letterpress is the name of a printing process by which a raised surface is inked and then pressed against paper or other material. The machine that prints in this way is called a Press. Just as we don't have a machine called a Lithography or a Photography we also don't have a Letterpress.
Poetry Publishing
Having started with the idea of printing letterpress, we needed something to print and bit by bit found ourselves to be publishers of poetry.
We are happy to consider submissions for small essentially unpublished collections, preferably by email to: . It is unlikely that we will be able to accept submissions from outside the UK (or New Zealand) as the economics of the project are fairly tightly tuned. Submissions on paper are also liable to get submerged under piles of other paper or mislaid and in any case will have to be scanned for further processing which can introduce errors.
Current publications are available here and those in the pipeline are listed here.
Composing Room
The Composing Room in its current state, almost honed to ergonomic perfection, making best use of what light comes in through the windows. We finally managed to acquire a large imposing stone, so at last there is room for both the Heidelberg chases at once. More photos ...
Heidelberg KS Cylinder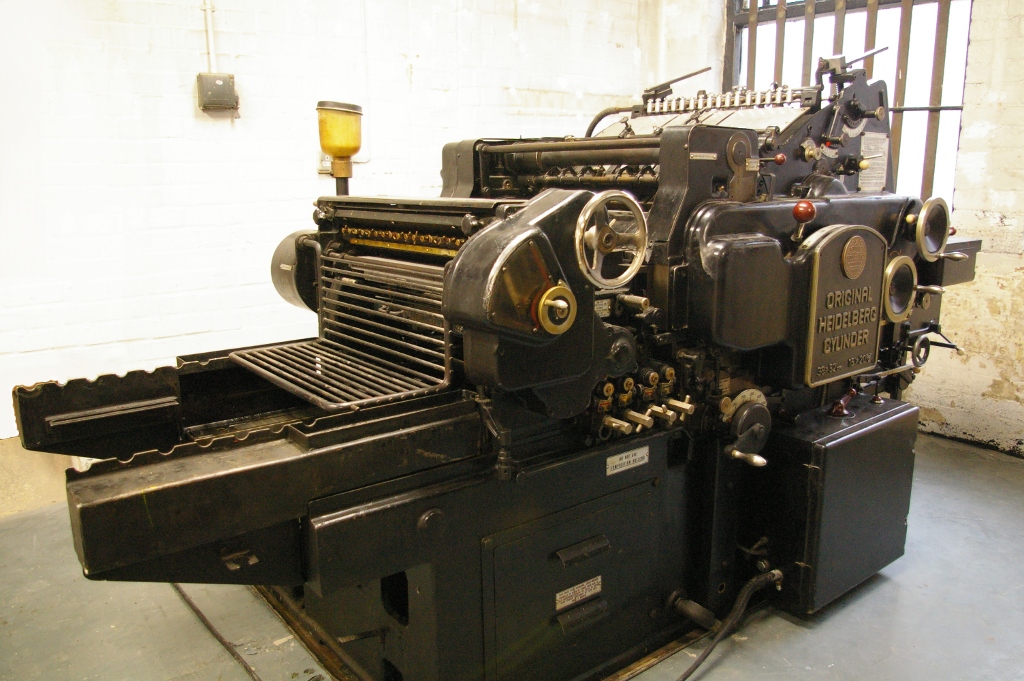 The Heidelberg KS Cylinder 380 x 520 acquired from Prespac, Coventry.
This 2.6 tonne beast was installed into its specially cleared space in September 2010 just in time for the second weekend of the E17 Arts Trail. Whilst it is not as antiquated as the rest of our equipment, it was still made before 1960! Now after a visit from some Heidelberg engineers it has been levelled and runs very smoothly.
Furnival 20" Guillotine
The Furnival Guillotine in our workshop. It has been thoroughly cleaned oiled and greased and the mechanism slides beautifully. It has been treated to a new wooden handle turned by our neighbours Nichols Bros (Wood Turners) Ltd. Unfortunately over the last 100 years, the blade had been sharpened so much such that it didn't quite hit the cutting stick any more, so we had Mastercut Cutting Systems Ltd make us two shiny new (and sharp) blades—no more need for mill board under the blade!
Thompson-British Automatic Platen
We debated whether to get a Heidelberg platen, but just couldn't bear the thought of being whacked on the head by the delivery arm, so settled for a Thompson—the best auto platen in the world—according to their advertising leaflet.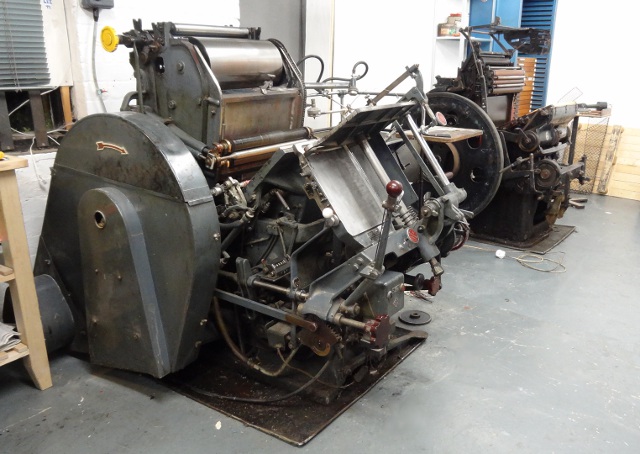 Thompson-British Automatic Platen with Auto Vic in the background.
AutoVic Art Platen
The tail lift of the truck used to transport our two AutoVic art platen machines is now repaired, and now the finest of them has made it to the workshop thanks to Mike Kirby of Linecasting Machinery Ltd.
The original rollers were in a rather poor state with most of the composition dripping down the wall of the garage we found the press in but we've had the rollers re-covered by Böttcher UK and all is now well.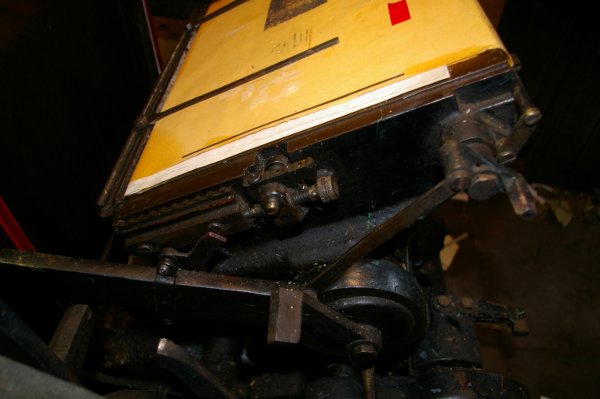 AutoVic Art Platen
Model Printing Press No 3, Treadle Platen
Also in the collection is a Model Printing Press Co. No 3 Treadle Platen. It came with only one roller stock, so we had another one made by our lathe-owning friend. With the press was a brass roller mould, but so far the experiments in roller composition mixtures have resembled those that drip down the walls in old printing shops.
In the end we sent the rollers off to Böttcher UK. They're now a lovely soft squidgy rubber. The roller runners run on a couple of strips of leather which had stretched and thinned over the years and needed packing to get the rollers to the right height over the forme. They've now been replaced, but the thickness is still not quite right and they still need to packed out. The rollers are the correct diameter as we have the original roller mould!
Ludlow Caster
Our Ludlow Caster is nestling in our back room which is supposed to be the bindery and paper handling area, but at the moment seems to be the repository for anything that doesn't fit in the main room. It was a job to get it up the 45 degree ramp but we managed eventually. Even after the pot has been simmering for a while, it's still cold in the back room.
Monotype Caster
We now have a Monotype Composition caster and a Super caster, which we have successfully used to cast the 12pt Garamond for our latest publication.
---
John Southward
John Southward (1840-1902), was a writer on typography and author of a number of standard texts on printing in the latter part of the nineteenth century. In his introduction to Gould's Letter-Press Printer he expresses his enthusiasm at the progress in the art of printing and would doubtless have been excited at how things have changed 100 years later.
Such is a rapid review of the progress of typography during the past four hundred years. Perhaps no industrial art has received such a development; yet it must not be concluded that invention has exhausted itself. To the art of printing "Thus far shalt thou go and no further," cannot possibly be said. There is no limit to the improvement of which even yet it is capable ; the products of the present will inevitably be eclipsed by the products of the future, just as the achievements of the past have been outshone by those of the present.
John Southward's Practical Printing is an excellent text on the art of letterpress printing and many modern letterpress printers would benefit from its study.
News
2018 April
2017 June
2016 July
2015 July
2015 June
2015 May
2015 February
2014 August
2014 July
2014 June
2014 May
2014 April
2014 March
2014 February
2014 January
2013 December
2013 November
2013 October
2013 September
2013 June
2013 May
2013 April
2013 February
2013 January
2012 December
2012 November
2012 October
2012 September
2012 July
2012 June
2012 May
2012 April
2012 March
2012 February
2011 December
2011 November
2011 October
2011 September
2011 August
2011 July
2011 June
2011 May
2011 April
2011 March
2011 February
2011 January
2010 December
2010 November
Imposing Stone
19 September 2010
---
Sunday brought another journey up to the Midlands to collect a type-case frame and some other bits. The cases that were on the floor are now happily housed, although it might be an idea to construct a frame to house the older wooden cases that don't fit comfortably in the newer metal racks.
The acquisition of the KS cylinder has meant that we're now a bit short of space on the imposing stone, which is just big enough for the chase, so imposing a forme is a little tedious. So, if anyone out there has a large (but movable) imposing stone they don't want, please let us know.
---
Heidelberg KS Runs Smoothly
15 September 2010
---
On Tuesday we had a visit from two Heidelberg engineers who gave the machine a once over and showed me a few finer points of the adjustments.
With a couple of jacks and some bits of hardboard, they levelled the machine (and moved it closer to the wall, giving me an extra 8 inches of workshop space) and now it runs very smoothly and, we hope, happily.
At long last it was possible to print the text of William Morris's letter about "His Aims In Establishing The Kelmscott Press" which had been intended to be available to E17 Arts Trail visitors. Still, in Walthamstow, interest in William Morris never dies, so hopefully it will be of interest to the next batch of visitors.
---
E17 Arts Trail Over for another Year!
11 September 2010
---
Our first participation in the Arts Trail seems to have been a success. We had a constant stream of visitors both to the Gallery and the Press.
Many expressed an interest in participating in future workshops and we're now working on developing a program that might be of interest.
It's been a busy couple of months moving into the building and getting it (almost) ready to invite the public round. Now a little rest until the visit from the Heidelberg engineer on Tuesday!
---
The Heidelberg KS Cylinder Arrives
07 September 2010
---
After much debate, several quotes, and a failed attempt, the newly acquired KS Cylinder Press found its way from Coventry to E17.
The installation involved a Hiab truck from Coventry and a fork-lift to carry it down the rather uneven lane. Eventually it entered the premises and was lowered onto skates. What we didn't know was that there is a slight incline from the garage doors and we had to seek some assistence to push its 2.6 tonnes over into the corner.
---
E17 Arts Trail Preview Night
02 September 2010
---
A very successful evening! All the hard work preparing the studio and exhibits finally viewed by the great British Public complete with fine NZ bubbly.
Special thanks to Helen, Nina, Mo, Roger, Isobel and Katherine for helping to get there and also to my builders Jim, Dave and Jason for knocking the building back into shape including new roof, two new ceilings and refreshed concrete floor!
---