Thomas Bensley
The obituary for Thomas Bensley included in A Dictionary of Printers and Printing - 1889.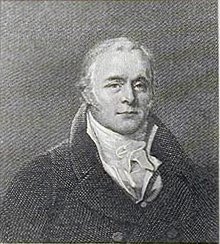 1835, Sept. 11. Died, Thomas Bensley, an eminent printer, of London. He was the son of a printer, in the neighbourhood of the Strand, where Mr. Bensley was first established; but he afterwards removed to Bolt-court, Fleet-street, where he succeeded Mr. Edward Allen, the ''dear friend'' of Dr. Johnson. Mr. Bensley's skill as a practical printer, was not inferior to that of his great contemporary, Mr. Bulmer.
''Pleased as we now the grateful strain pursue.
Two sons of science pass before our view.
Who to their works perfection can impart.
And snatch from barb'rous hands our sinking art;
Their skill the sharp fine outline still supplies;
From vellum leaves their graceful types arise;
And whilst our breasts the rival hopes expand,
Bulmer and Barnley well-earn'd praise demand.''

Whilst Mr. Bulmer astonished the public with his magnificent edition of Boydell's Shakepeare, Mr. Bensley produced a rival production in Macklin's Bible. To use the words of Dr. Dibdin, ''While the Shakspeare gallery and the Shakspeare press were laying such fast hold of the tongues and the purses of the public, a noble spirit of rivalry was evinced by the Macklin's of Fleet-street; Reynolds, West, Opie, Fuseli, Northcote, Hamilton, and others, were engaged to exercise their magic pencils in the decoration of what was called the Poet's Gallery, and among other specimens of the national splendour and patriotism came forth the edition of Thomson's Seasons, in 1797, in royal folio, from the press of Mr. Bensley; a volume quite worthy of the warmest eulogies.''
Mr. Bensley continued a splendid career of typography for many years. On the 5th of Nov. 1807, his premises were much damaged by fire, supposed to have been occasioned by boys letting off fire works, by which some very valuable works were destroyed. To Mr. Bensley's exertions and his money, this country is indebted for the introduction of printing by machinery, as he was the chief person who assisted Mr. König, and witnessed the progress so far as to work off a sheet on both sides. But he had scarcely brought his exertions to a successful issue, before a second unfortunate and very rapid fire, June 26, 1819, again destroyed his warehouses and printing office, with their valuable contents. The elaborate machinery for steam printing was not materially injured, and the printing-office was soon rebuilt. Soon after this event, Mr. Bensley retired from steam printing, and although he afterwards connected himself with a minor establishment in Crane-Court, Fleet-street, resided chiefly at Clapham Rise, where he died.
Entry in the Dictionary of National Biography – 1900.
BENSLEY, THOMAS (d. 1833), printer, is known by his own productions and by certain mechanical adjustments (adopted by the Times in 1814). His offices in Bolt Court were the same which had previously been occupied by Edward Allen, the friend of Johnson. Here he printed Macklin's folio Bible in seven volumes (1800), Hume's History of England, an octavo Shakespeare, and The Posthumous Letters of William Huntington (1822), which he also edited in part. In a preface to this work he complains of a fire which had destroyed his premises, with much of his valuable stock; and it appears that he was burned out on two separate occasions, suffering considerably thereby. Bensley seems to have been a steady man of business, enduring the heavy burdens imposed upon him by his patriotism and preserving a stolid, imperturbable, if fantastic and somewhat unintelligent religious faith. Bensley was one of the acting trustees of Providence Chapel, in Gray's Inn Lane, under the ministration of the notorious 'Coal-heaver Saint' [see Huntington, William]; and though the maintenance of this chapel was mainly due to the generosity of the wealthy widow of a city alderman, Bensley did his part in defraying the working expenses, and helped to raise a handsome monument by Westmacott on the death of Huntington in 1813. Testimony is borne to his charitable disposition in the preface to a work by his son Benjamin, entitled Lost and Found, which records the conviction and repentance of a young Birmingham engraver, sentenced to penal servitude for the forgery of Bank of England notes. Thomas Bensley had shown much kindness to this young man after his conviction, and had assisted to support his wife and child, referring to which his son writes: ''I might here say much of that parent of whose life this affair always seemed to me to present one of the brightest pages [...] That father's fame will ever be associated with names famous in the art which he did so much to raise and adorn.'' Amongst these names are Allen, Bulmer, Nichols, Bell, and Koenig. Nichols writes of him that ''he demonstrated to foreigners that the English press can rival, and even excel, the finest works that have graced the continental annals of typography.'' Koenig was associated with him in the invention noticed at the beginning of this article.